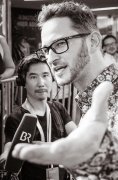 Karl-Martin Pold

GENRES / ACTIVITIES
Documentation Cinema, Image, Motion Picture / Feature, Shortfilm, Magazin, Commercial
CAREER
EDUCATION
Works as a director and screenwriter for feature films, documentaries and commercials. In addition to his work as a filmmaker he works as a social media strategist, author and crowdfunding expert. With 260.000 followers he got the biggest movie-related crowd in the German speaking countries. In addition, he is CEO of Buddy Lane Production and creative director, interactive storyteller and influencer. He is co-founder of the Filmstammtisch Wien, winner of the "Content Award Vienna" and member of the Austrian directors' guild.
WORK EXPERIENCE ABROAD
Lives in Vienna, Austria. Studied Theater-, Movie- and Media Science at the University of Vienna and Journalism and Public Relations at the University of Applied Science FH Joanneum in Graz. Did an exchange semester with the Department of Journalism at the University of St. Petersburg in Russia and an exchange semester for marketing in Colorado, USA and in Barcelona. Wrote his diploma thesis about Bud Spencer, Interactive Film Producing and Transmedia Storytelling.
LANGUAGE SKILLS
German, English
AWARDS
2000: Youki Award 2009: Camgaroo Award 2010: Content Award
FILMOGRAPHY
TITEL
YEAR
GENRE
INFOS
Das Geschäft mit der Liebe - Staffel 7
2021
Magazin
Donaupolizei Folge 1-4
2020
Magazin
Pratergeschichten Folge 1+4
2020
Magazin
A man called Bulldozer
2019
Documentation Cinema
Globe Air - Alexa
2019
Commercial
A man called Bulldozer
2017
Documentation Cinema
Film-Details
FILM-DETAILS: A man called Bulldozer
| | | |
| --- | --- | --- |
| Year | | 2017 |
| Minutes | | 122 |
| Genre | | Documentation Cinema |
| Assignment | | Regie, Drehbuch |
| Production | | EPO Film, Buddy Lane Productions, Departures Film |
| Releases | | München Filmfest, Filmfestival Rome, Viennale, Diagonale, Kinofest Lünen |
| Contents | | Sie nannten ihn Spencer ist der erste Kino-Dokumentarfilm mit und über Bud Spencer, der die facettenreiche Biografie Carlo Pedersolis sowie das weltumspannende Phänomen der Spencer/Hill-Kultfilme thematisiert. |
| Web | | https://www.sienanntenihnspencer.com/ |
Der Fall Bacchus
2016
Shortfilm
Happy
2015
Image
True Love
2014
Shortfilm
99 Shines in the Sky of Europe
2013
Motion Picture / Feature
Be Bud of it
2009
Shortfilm
Mosted Dead
2001
Motion Picture / Feature
Deus Post Me
1999
Shortfilm
Heart and Cross
1998
Shortfilm