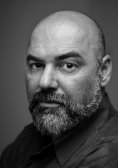 Lucas Vossoughi

GENRES / ACTIVITIES
Avant Garde / Experimental, Documentation Cinema, Image, Shortfilm, Magazin, Music Video
CAREER
EDUCATION
Born in Vienna in 1976 of Austrian and Persian ancestry, studied communication, media sciences & anthropology at the University of Vienna and got his Master of Arts in 2002. He was also a guest student at the HdK in Berlin for visual media art and the Viennese film academy. In 2008 he attended the Zurich Masterclass (with Ken Loach, Costa-Gavras etc). He is co-founder of the design label Ed's Firearms & Supplies (2003-07), was head director of the media department of Erste Bank (2010-12), and also works as a freelance photographer. Since 2005 he produces and directs films as tightrope films together with Artur Golczewski, an ex-nuclear physicist who emigrated from Poland in 1988.
WORK EXPERIENCE ABROAD
Los Angeles, Schottland, Griechenland, Deutschland
AWARDS
Best International Screenplay: (Oregon Film Festival, USA); Finalist Cinequest Filmfest, USA & Miami Science Fiction Festival 2019; Nominated Best Horror Film 2018 (Genre Celebration, Tokyo, JAP) ; Best Horror Short 2018 (European Cinematography Awards); Sitges Int. Fantastic Filmfestival 2011 (Spain, Nominated for Best European Fantastic Shortfilm) Grossmann Fantastic Festivals 2011 (Slowenia, Gewinner Golden Méliès Nominee) Hollywood Reel Independent Film Festival 2012 (USA, Audience Award Best Film & Honorable Mention Best Visual Effects) shnit 2011(Best Viennese Production) NISIMASA 2007 (European Screenplay-Contest, Winner Austria, European Semifinalist) Ohne Kohle Festival 2006 (Vienna, Runner-Up)
FILMOGRAPHY
TITEL
YEAR
GENRE
INFOS
Generali Freestyle
2018
Image
Six ways from Sunday
2017
Magazin
Fragments
2017
Shortfilm
AZR0 - Robots in the Wild
2016
Image
Dein Baumeister
2016
Image
Lupimaris - Wolves of the Sea
2015
Magazin
All Night Long - Parov Stelar
2013
Music Video
Neopoldstadt
2013
Magazin
Menahem Golan - Life of a Cinemaniac
2012
Documentation Cinema
A Day in the Country
2011
Shortfilm
Broker It Yourself
2010
Image
ET - Madita
2010
Music Video
Deep Impact
2009
Image
Miss Entropy
2008
Avant Garde / Experimental
Eembrace
2007
Shortfilm
Jackpot
2006
Shortfilm
Come back for more!
2002
Image